More about Rewards I have received, So Far.
Creative
Rewards
Here you will find more about Rewards I have received either a personal or a team work reward.
Bronze Leaf Award - FSEA
2017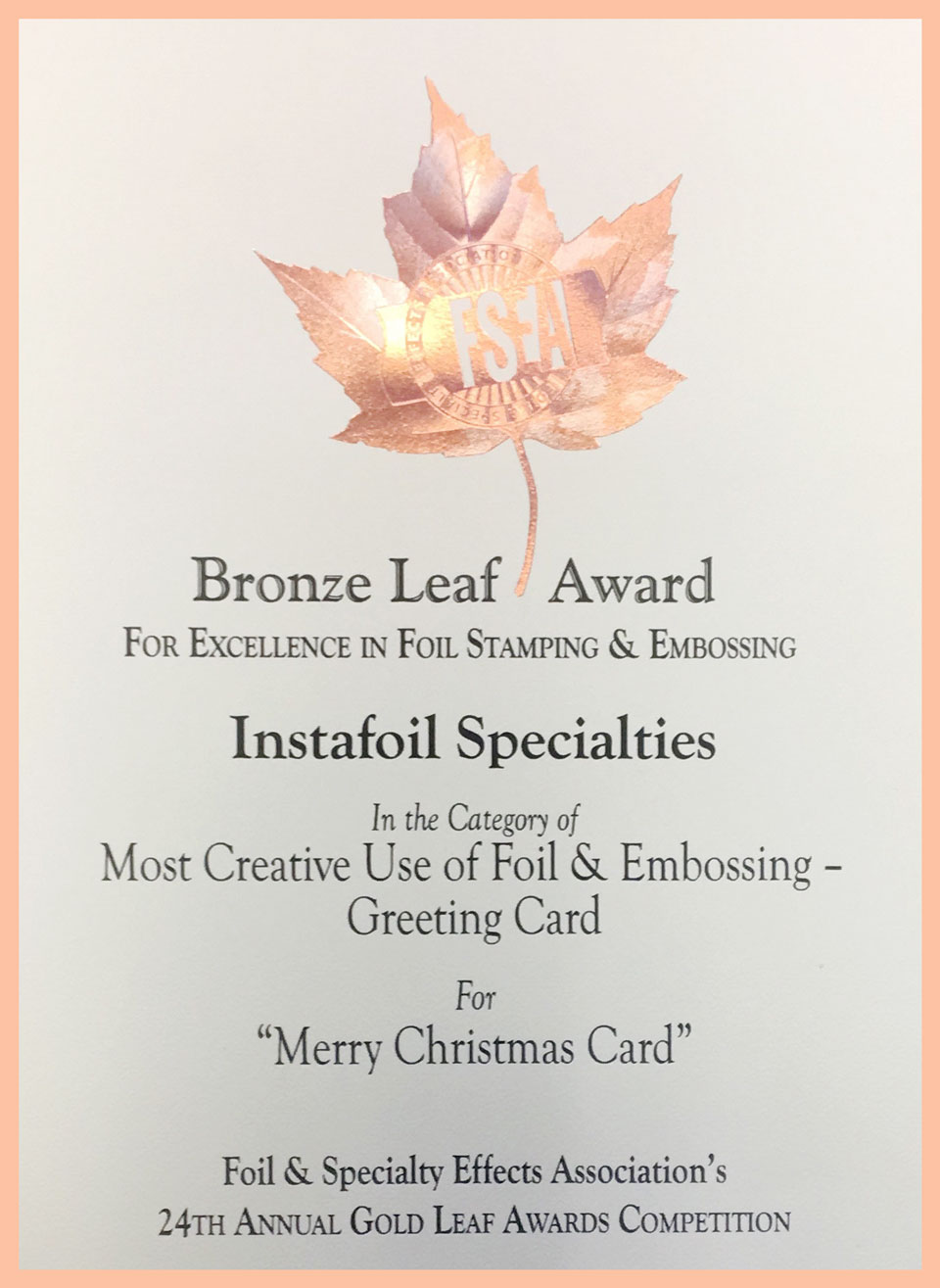 Most Creative Use of Foil & Embossing
This project is one of the most projects I'm proud of. I worked on this project when I was the Art Director of Instafoil Specialties Inc., Winnipeg, MB, Canada.
I worked with the company team give this project the best of our efforts. In this Greeting Card project, I was responsible for Creating a design that would compete in one of the worldwide competition by using very basic stuff like Ordinary Stamping Foil and Copper Plates to create an Image that looks like as if it was printed.
Thanks to my best friend Sam Alkersh, who helped me to create the color separated plates files using his long years of experience in Flexographic Printing.
After we have the separation file, we did couple trials to make sure that foil will stick using these very fine dots on the plate. We kept trying and we got the best Speed, Heat and Type of foil that serves our purpose.
It was a hard job but the result was fabulous and it had been crowned by winning the Bronze Leaf Award as the Most Creative Use of Foil & Embossing in the category of Greeting Cards.
Details About Gold Leaf FSEA +
More about the Greeting Card Project
Wonder how was the process of this project? well, here is more images about it. This shows the process of production and the end result of the Greeting Card
My Portfolio
Rewards, Rewards, Rewards ..
Do we really need
Rewards!
Through the whole of my life, I wasn't looking for a Reward to have. The only thing that I was very happy with it and always thought of it as it is my reward is to finish a project and I have the feeling that I did my best in that project. I didn't like getting in a competition with someone and try to beat him/her especially if this person is one of my friends. I always rather have friends more than competitors. However, in some cases when you really do something you think it is fantastic you would like to all people, after all this how we learn from each other's experiences.